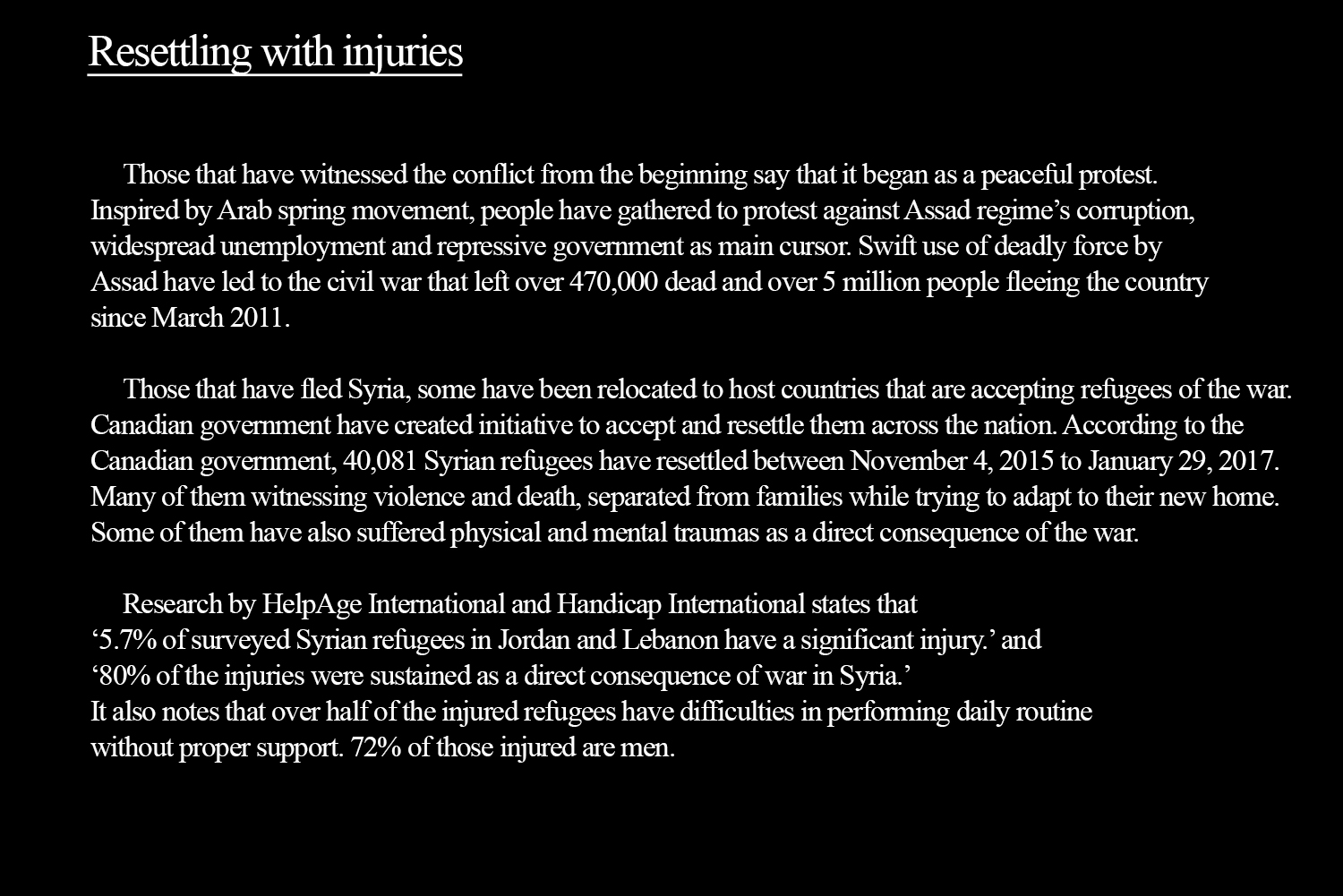 Abdullah tries to keep himself busy and occupied by hanging out with friends or helping them with projects. He says that it helps him not think about the deaths and violence he witnessed back home.
He is one of many Syrian refugees who were selected by the Canadian government as part of their initiative to resettle Syrian refugees. After one year of assistance by the government and NGOs, he has to start looking for ways to support him and his family outside of welfare and child tax benefit.
Two of his children were born in Syria and his youngest, Basam is born in Canada. They keep him busy when he is home and when he leaves their apartment, the youngest tends to follow him to the door and cries.
He calls and check with his family who are in Jordan as the children play around him.
Abdullah takes a break from helping a friend.
Left arm shows homemade tattoos along with deformity due to the injury.
X-ray shows the injury he received in Syria as the bomb fell on his home town in Jasim. He has broken arm that received surgeries in Germany and also a puncture wound on his stomache.
The arm causes him pain, limits his movement, and can't lift heavy weights on his left arm. It's difficult for him to continue working in construction but he pushes himself for his family.
He was told by doctors that he will eventually loose nerves and feelings in his left arm.
Abdullah checks out a car he might drive soon once he gets the license.
Fellow refugees from Syria often gather at each other's homes to hang out in the evening. They share news and gossip, drink tea and coffee along with snacks.
Abdullah walks into the lake to untangle the fishing line.
Abdullah's friends call him the 'trouble maker'. He likes to joke and laugh. He tries to lure the bird at a park while fishing.
His daughter hugs him from the back during his prayer at home.